Collaborative Research and Development
We conduct joint research and development with pharmaceutical companies and bio-related companies. Not only repertoire analysis, but also our experts will help you succeed in your research and development by combining our own immune informatics (AI technology, Structure Simulation, etc.) and experimental technology (single cell NGS analysis, etc.) The theme should be set for each individual company, such as search for drug discovery targets for each disease, patient stratification, and the development of diagnostic methods.
We ask the companies involved joint research and development to bear joint research expenses (such as our R&D expenses, success compensation, etc.) and share the intellectual property. If you are interested in joint research and development with us, please contact us through "Contact us".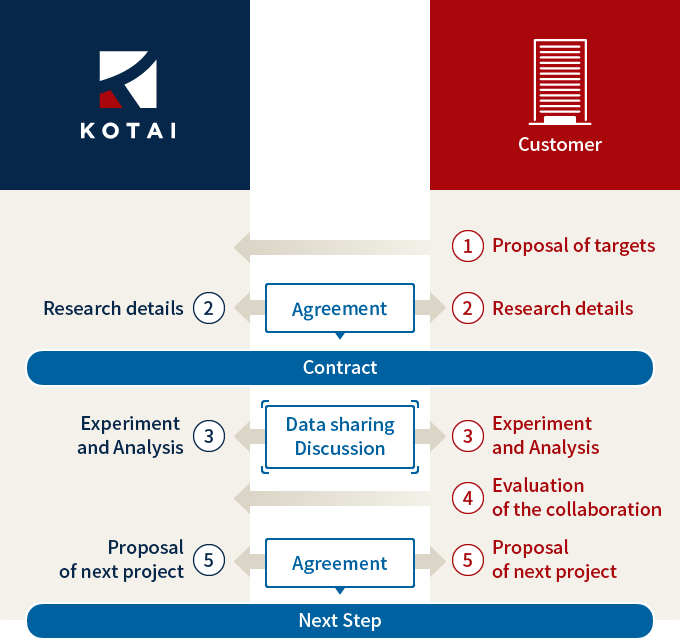 Independent Research and Academia Joint Research
We develop our own AI and experimental technology.
In addition, we conduct joint research with research institutes such as universities and search for drug discovery targets and biomarkers based on our own clinical research. These deliverables are developed with the aim of out licensing out to pharmaceutical companies.
If you are an academia professor who is interested in joint research with us, please contact us through "Contact us". We are currently looking for joint research on the following topics.
Cancer
Patient Layering, improvement, target search for the following treatments
Immune Checkpoint Therapy and Combination Therapy with it
Cancer Immune Cell Therapy (CAR-T Cell Therapy, TCR-T Cell Therapy, TIL Therapy)
Anti-tumor virus therapy and treatment with immunologic cell death, Research on various liquid biopsies
Autoimmune diseases
Diagnosis and recurrence prediction of immune diseases that are suspected to be involved in acquired immunity, drug effect prediction, drug discovery target search.
Examples of diseases:
Behcet's disease
ANCA-related vasculitis
Multiple Sclerosis
Multiple Myositis and Dermatitis
Ankylosing Spondylitis
Type I Diabetes
Ulcerative Colitis
Crohn's disease
Psoriasis
Theumatoid Arthritis, etc.