Company Overview
Company Name
KOTAI Biotechnologies, Inc.
Representatives
Kazuo Yamashita (CEO)
Location
2F, Bldg. B, Office for Industry-University Co-Creation, Osaka University,
2-1 Yamadaoka, Suita, Osaka 565-0871, Japan
Phone
06-6170-5267
Date of incorporation
May 30, 2016
Closing month
June
Business
Immune AI platform and data analysis
Capital
15,000 thousand Japanese yen
Numbers of employee
11 (As of October 30, 2020)
Biography
March 2012

Ph. D. in Physics, Graduate School of Science, Osaka University
April 2012

Specially Appointed Researcher, System Immunology Laboratory, Immunology Frontier Research Center (WPI-IFReC), Osaka University
April 2015

Specially Appointed Assistant Professor, System Immunology Laboratory, Immunology Frontier Research Center (WPI-IFReC), Osaka University
May 2016

Co-founder and CEO, KOTAI Biotechnologies, Inc.
Papers and research themes
Majored in Physics at the Graduate School of Science, Osaka University and involved in theoretical research on novel ordered phases such as Fulde-Ferrell-Larkin-Ovchinnikov (FFLO) and supersolid phases that possibly exist in extremely low temperature regions of photo-excited semiconductors and/or semimetals. The FFLO study was featured as a cover of the journal.
Since 2012, worked in structural bioinformatics and systems biology as a specially appointed researcher and as a specially appointed assistant professor since 2015, at Osaka University Immunology Frontier Research Center, which is known as a world-class immunology research center. Utilized and developed various technologies and methods: in silico modeling, docking, design, molecular dynamics simulations, etc.
In collaboration with Astellas Pharma and the Institute for Protein Research at Osaka University, successfully established a state-of-the-art antibody structure modeling method that was proved in a blind contest, the Second Antibody Modeling Assessment (AMA-II), wherein the team ranked first among six invited groups. Encouraged by the fruitful results in this contest, developed an antibody-modeling server, Kotai Antibody Builder.
During this period, conducted numerous collaborative researches with immunologists, structural biologists, and chemists, and published more than 20 papers in world-renowned journals such as Immunity and Nature structural & molecular biology.
Founded KOTAI Biotechnologies, Inc. in May 2016, and, as a Chief Executive Officer, has been developing and commercializing immune big data analysis pipeline.
This is a unique technology that combines state-of-the-art AI with a deep understanding of Immunology, and has gain recognition: being adopted by NEDO's FY2017 AI System Joint Development Support Project.
In addition, focused on bioinformatics analysis that combines cutting-edge experimental technologies such as single-cell analysis, and gave many invited talks. Now KOTAI is recognized as a center for Immuno-informatics in Japan.
Management and Advisors
Directors
Chief Executive Officer Kazuo Yamashita
Director Kenji Nishimoto
Director Koji Taguchi
Director Fumio Nishikaku
Director Kenji Takahashi
Business Partners
We have established research and development networks with the leading research institutes in Japan.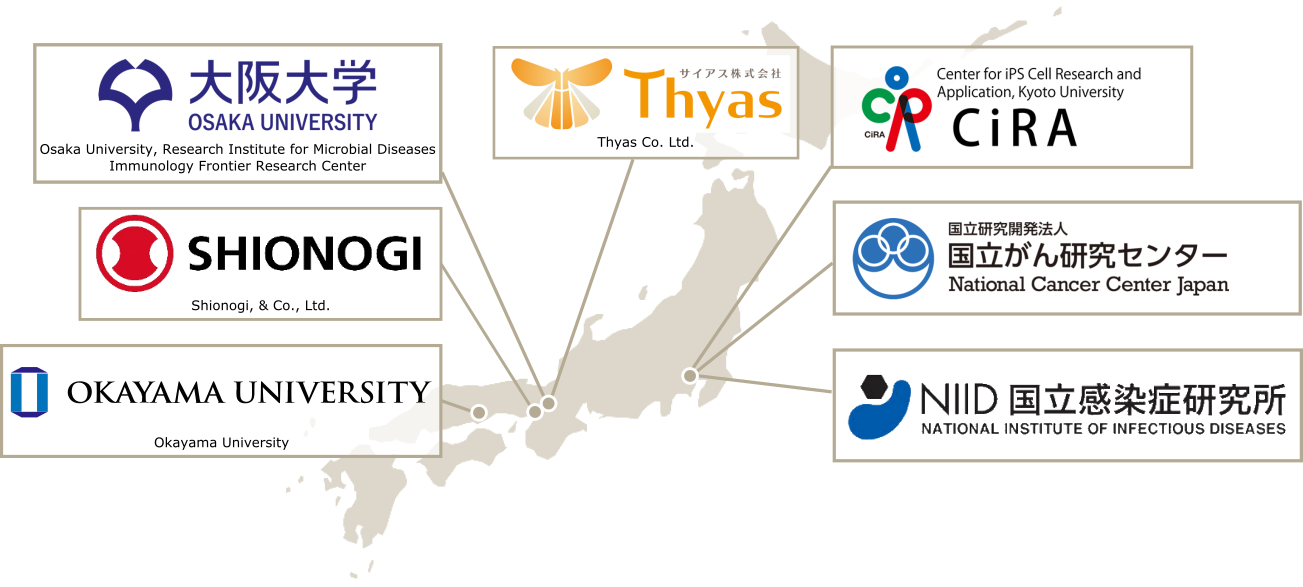 History
May, 2016

Established KOTAI Biotechnologies, Inc. (at Chuo-ku, Osaka-shi, Osaka Prefecture) (Capital: 1,820 thousand Yen)
Started business at Research Institute for Microbial Diseases, Osaka University (at Suita-shi, Osaka Prefecture)
October, 2016

Third-party allotment of shares Capital increased to 26,820,000 yen.
August, 2017

Third-party allotment of shares Capital increased to 127,320,000 yen.
February, 2018

Newly established the office at Building B, Office of Industry-University Co-Creation, Osaka University (Suita-shi, Osaka) with the expansion of the business
August, 2018

Osaka Prefectural Government authorized the "Growth Industry Business Plan at the Special Integrated Area of Growth Industry (Suita Campus, Osaka University)."
February, 2019

Third-party allotment of shares Capital increased to 252,320,000 yen.
March, 2019

Closed the office at Research Institute for Microbial Diseases, Osaka University and integrated into the Building B, Office of Industry-University Co-Creation, Osaka University
July, 2019

Relocate the head office from Osaka-shi, Osaka Prefecture to Suita-shi, Osaka Prefecture
August, 2019

Moved the laboratory to Building A, Office of Industry-University Co-Creation, Osaka University with the expansion of the business
March, 2020

Reduced capital to 10,000,000 yen without compensation
October, 2020

Third party allotment of shares Capital increased to 15,000,000 yen
Grants and subsidies adopted
July, 2018

Japan Agency for Medical Research and Development (AMED)
"Research project for practical use of infectious diseases"

Study on elucidation and improvement of immune pathology for HIV infection healing

Period 3 years
July, 2018

New Energy and Industrial Technology Development Organization
"AI System Joint Development Support Project 2017 Supplementary Budget"

Development of antibody-enhanced AI based on high throughput experimental data

Period 1 year
August, 2018

The Small and Medium Enterprise Agency
"Subsidy for measures to support small and medium-sized enterprises' management 2018 (Strategic Basic Technology Advancement Support Project"

Development for identification method of autoantibodies and biomarkers that cause autoimmune diseases

Period 3 years
November, 2018

Japan Agency for Medical Research and Development (AMED)
"Research Project for the Creation of Next-Generation Cancer Medicine"

Clustering and phenotype analysis from T-cell receptor sequences

Period 3 years
April, 2019

Japan Agency for Medical Research and Development (AMED)
"Research project for practical use of infectious diseases, Research Project for Development of Innovative Drugs for Emerging and Re-Emerging Infectious Diseases"

Development of diagnostic methods for congenital and unknown infectious diseases by pathological approach
Development of basic technology in anticipation of introduction of nasal influenza vaccine

Period 3 years
October, 2019

Japan Agency for Medical Research and Development (AMED)
"Research Project for Practical Application of Innovative Cancer Medicine"

Spatio-temporal analysis of neoantigen-specific T cells by single cell sequence and application to therapeutic targets and biomarkers

Period 3 years
November, 2019

The Small and Medium Enterprise Agency
"2019 Manufacturing, Commerce and Service Advanced Cooperation Promotion Subsidy"

Providing high-precision cell experiment services that achieve large scale and low price

Period 1 year
April, 2020

Japan Agency for Medical Research and Development (AMED)
"Innovative Advanced Research and Development Support Program Step Type (FORCE)"

Elucidation of involvement of neutrophil-activating regulators in the anti-tumor immune response in human lung cancer

Period 2 years
July, 2020

Japan Agency for Medical Research and Development (AMED)
"Emerging and Re-emerging Infectious Diseases Research Infrastructure Creation Project (Research Area Utilizing Overseas Bases)"

Research and development of HIV-1 subtype A/E infections for treatment and prevention

Period 2 years and 9 months
August, 2020

Japan Agency for Medical Research and Development (AMED)
"Program to Develop Countermeasure Technologies against Viral and Other Infectious Diseases"

Development of high-precision and high-performance immune monitoring technologies for SARS-CoV-2 infected patients

Period 6 months
April, 2021

Japan Agency for Medical Research and Development (AMED)
"Research Project for Practical Use of AIDS Prevention"

Study on novel immuno-cell therapies for the radical cure of HIV

Period 3 years
April, 2021

Japan Agency for Medical Research and Development (AMED)
"Research Project for Development Promotion of Innovative Drugs for Emerging and Re-Emerging Infectious Diseases"

Exploratory study on COVID-19 vaccine biomarkers based on immune profiling

Period 1 year
May, 2021

Japan Agency for Medical Research and Development (AMED)
"Research Project for the Creation of Next Generation Cancer Medicine"

Development of a method for single-cell analysis of tumor-infiltrating lymphocytes with genomic abnormalities and elucidation of its clinical significance

Period 1 year
July, 2021

Japan Agency for Medical Research and Development (AMED)
"Japan Program for Infectious Diseases Research and Infrastructure"

Spatial transcriptomics and single cell analysis to study pathogenesis of viral hemorrhagic fever SFTS

Period 3 years
Access
2F, Bldg. B, Office for Industry-University Co-Creation, Osaka University, 2-1 Yamadaoka, Suita, Osaka 565-0871
Access to the Suita Campus, Osaka University
Our company is located on the Suita Campus of Osaka University, and access to the Suita Campus is as below.
https://www.osaka-u.ac.jp/en/access
Map of Suita Campus
Click here for a map of Suita Campus of Osaka University.
Our office is in the building of 48th.
https://www.osaka-u.ac.jp/en/access/suita